WARNING: THIS COMIC CONTAINS SMUT. AND PORN. AND LOTS OF REDICULOUSLY PLACED BOOBS AND PENISES. AND ITS ALSO STRANGE. SEXY STRANGE. PERHAPS WEIRD, BUT IN A GOOD WAY. IF YOU ENJOY THAT KINDA THING, GOOD FOR YOU. HERE'S A COOKIE.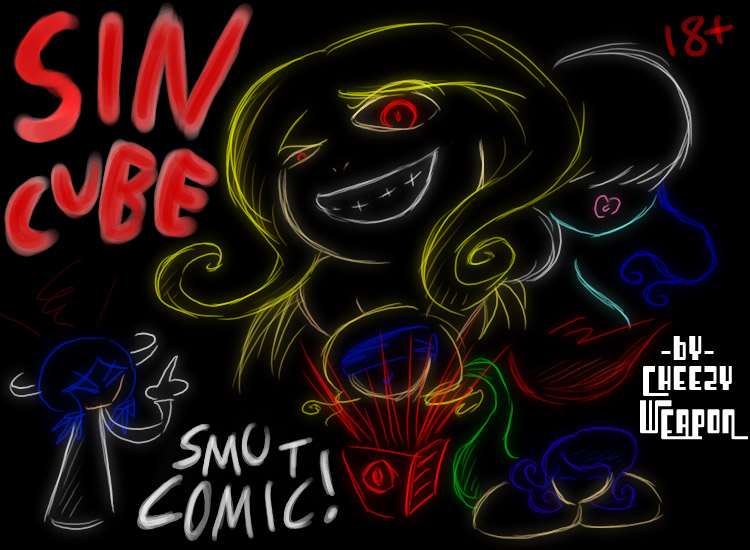 Sin Cube
was the first comic I did for Slipshine back in.. Well, let's just say it's my first when I just started doing 'serious' porn comics. It's very rough in the beginning, but picks up (aw who am I kidding, it's still slugging in Convoluted Plotville). It's also the first time I'd drawn Pin Prick, who's just now starting to get her fair share of her own comics and become a personal favorite next to Lez.
The reason why it's here?
Well.. I've lost interest in trying to unbury its strangely complex plot and it's going to stay here until I can chisel it into perfection. Sorry.. Besides, I have a new series going on at
Slipshine
in addition to a slew of others, so check them out!
Sin Cube will update by chapter, once every couple of months.
For the new people just finding
Sin Cube
, you might want to start from the beginning.. If not, you can start at the latest chapter.. Enjoy!~
Next Update: April
Start at the beginning!
Read the latest chapter!
Want to support Slipshine and get some publicity yourself? Click on the ads below to help!
SIN CUBE is ©2016 by Cheezy Weapon. No material on this site may be reproduced elsewhere without permission, except for the purposes of review or promotion. Similarities to existing people are coincidental. 'Rendered Sin Cube' image made by kfvik. Powered by Slipscript Version Beta 5.